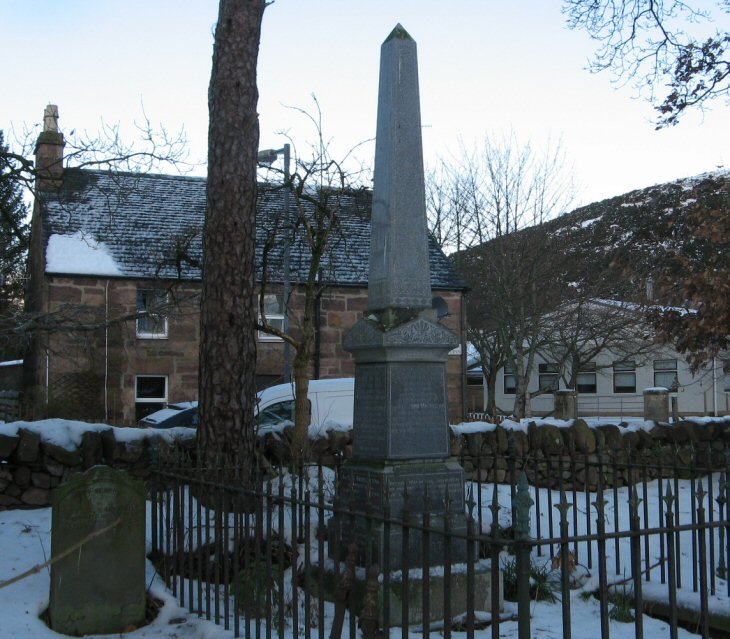 John, Ebenezer, Robert Macmillan & family.
Erected by/the United Free Church/congregation/of Lochbroom/and other friends/in loving memory of/the Rev. JOHN MACMILLAN/who died in Glasgow/on the 14th of April 1906/in the 69th year of his age/and the 34th year of his ministry.



"And they that be wise shall/shine as the brightness;and they that turn/many to righteousness/as the stars for ever than ever."



[LHS]Here also lies/JESSIE died 1886/JOHN died 1898/ANNIE beloved wife of/W. M. MACPHAIL died 1910/in Blomfontein, South Africa/DUNCAN, died 1896/SARAH BOYD beloved wife of/Rev. JOHN MACMILLAN, died 1912/killed at Arras/ROBERT 1917/(see also below).Rev. R.A.C. MACMILLAN D. Phil/minister of/St. John's Presbyterian Church/Kensington/2nd Lieutenant Seaforth Highlanders/Here also lies the above mentioned WILLIAM M. MACPHAIL/died 2nd Jan. 1951.



[RHS]



The Very Reverend/EBENEZER MACMILLAN D.D./minister ST Andrew's Church/Pretoria/died 30 Oct. 1944/buried in Pretoria/MARIE MACMILLAN/died 2 Aug. 1958/NEIL BOYD MACMILLAN/O.B.E., B.Sc., A.M.I.C.E./died 27 Nov. 1960/JONATHON NEIL BOYD MACMILLAN/Pretoria/22-11-55 - 18-8-67.
Picture Added on 02 January 2010.





Comments


---