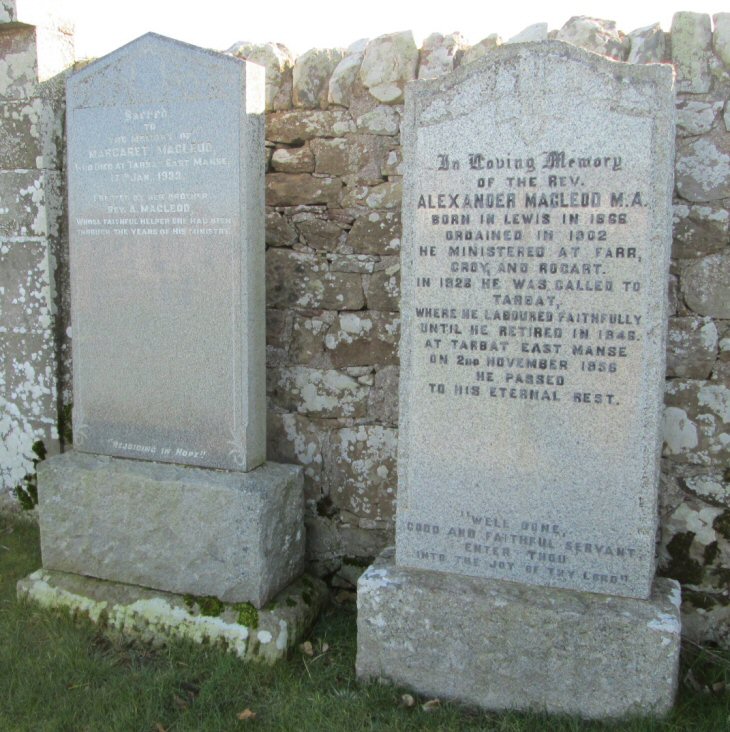 Margaret & Alexander Macleod.

[Left stone]

Sacred/to/the memory of/MARGARET MACLEOD/who died in Tarbat East Manse/17th Jan. 1933.

Erected by her brother/Rev. A. MACLEOD/whose faithful helper she had been/through the years of his ministry.

"Rejoicing in Hope."

[Right stone]

In loving memory/of the Rev./ALEXANDER MACLEOD M.A./born in Lewis in 1866/ordained in 1902/He ministered in Farr/Croy, and Rogart/in 1926 he was called to/Tarbat/where he laboured faithfully/until he retired in 1946/at Tarbat East Manse/on 2nd November 1956/he passed/to his eternal rest.

"Well done/good and faithful servant/enter thou/into the joy of thy Lord."
Picture Added on 12 March 2014.


---